My roommate makes the best shortbread cookies ever.  He got the recipe from a cookbook he got in Scotland many years ago: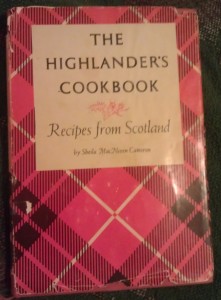 This is the same recipe used for years in the Fabulous Radical Women Bake Sale.  
Here's some pictures from the last batch he made.  He sent them to his folks as holiday gifts.  These are Laughing Cow cheese boxes that he painted and covered with colorful leaves.  Very nice, don't ya think?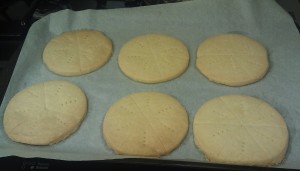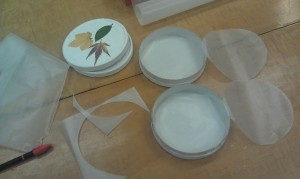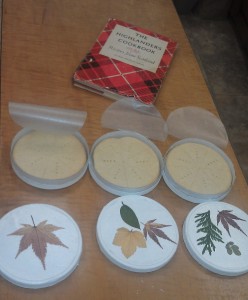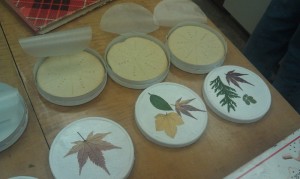 Shortbread
By DoreensRecipes Published: December 17, 2012
Yield:

32 wedges or 75 cookies
Shortbread is one of the simplest recipes in the world, and yet one of the easiest for a poor cook to ruin. False economy can kill its chances from the start, and "dressing up" can be its downfall. While it is true that there are many recipes where margarine can safely substitute for butter, this is NOT one of those places. The distinctive flavor of shortbread depends most emphatically on butter. Nothing else will do. And it should be the freshest, sweetest, butter obtainable. The creative cook who feels the recipe is too naked as it stands, and dresses it up with vanilla, eggs, nuts, chocolate chips, or what have you, may be creating something. But it won't be shortbread.
Ingredients
Instructions
If you can't get rice flour, use 4 cups all-purpose flour, total.

Cream the butter and add the sugar gradually. Blend well, but don't overwork it or let the butter become oily. Gradually work in the flour. (I have found that 3/4 cup of corn starch makes an excellent substitute for one cup of rice flour, if that doesn't bother the purists too much!)

Turn the dough out on a lightly floured board to pat out. (Here's another trick: Use part confectioners sugar, and part flour to "flour" your board, for better results.) For a traditional look, pat the dough into two circles, about 3/4 inch thick. Pinch the edges, and prick all over with a fork. Place on a baking sheet. Then, especially if the day or kitchen has been warm, put the shortbread in the refrigerator or freezer for half an hour.

Set oven at 375 degrees F. Bake shortbread at this temperature for five minutes, then lower the temperature to 300 degrees F and continue baking for 45 to 60 minutes. When done, shortbread should be golden, but not browned at all. Cut into wedges while still warm. Makes about 32.

Shortbread "cookies" can also be made, which, although not as traditional, are perhaps more satisfactory for entertaining. For these, pat the dough out in 1/4 to 1/2 inch thickness. Cut in quite small rounds (no larger than 1 1/2 inches in diameter), prick each one twice with a fork, chill, and bake for a total of perhaps 20 minutes. Makes about 75.

WordPress Recipe Plugin by ReciPress