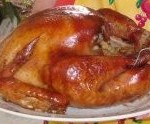 For the last 20 years or so I've been roasting turkey for my family's Thanksgiving.  I enjoy it and love finding pastured turkeys, even a heritage bird.  We've found some nice ones at Wolfe's Neck Farm near Freeport Maine.
From the beginning I trusted my cooking bible, Joy of Cooking.  It hasn't let me down yet.  I've read a lot of newspaper articles about various ways to roast a turkey but mostly have used this one.  And of course I've adapted it over the years.
Roast Turkey
By DoreensRecipes Published: January 26, 2014
Adapted from Joy of Cooking, it's what I do most Thanksgivings
Ingredients
Instructions
Preheat oven to 450 degrees. (Remember to remove extra rack so there's room for the bird. I often forget that and then have to put the hot rack outside before it melts or burns something!)

Melt butter over low heat in saucepan. The amount of butter depends on the size of the bird; 1 lb should cover a large bird (20 lbs.) 3/4 lb for 15 pounder.

Prepare the bird for roasting. Joy of Cooking calls for rinsing and patting dry. But health depts. say not to rinse turkeys because they splatter nasty germs around the kitchen sink.

Baste the turkey with butter all over.

Place bird in the roasting pan on a rack and stuff if desired. Add celery, carrots and onion chunks to the bottom of the pan. This helps with the gravy. Also add fresh herbs like sage and rosemary if using.

Cut the cheesecloth into lengths that will cover the turkey, usually three pieces, one down the middle and one on each side. Dip each into melted butter, squeeze excess and drape over the turkey to cover.

Place in oven and immediately reduce heat to 350 degrees, 325 degrees for larger birds.

Make and drink a Bloody Mary in celebration of the bird in the oven!

After 30 minutes, begin basting the turkey regularly. Joy of Cooking says every 10 minutes! I've never done that but usually go every 30 minutes. Recently I tried once an hour and it worked fine.

To determine roasting time, it's best to quote Irma from Joy of Cooking: "Timing involves many factors: the age of the bird and its fat content, its size, and whether it was frozen. If using a thermometer, insert it into the center of the inner thigh muscle, taking care that the tip is not in contact with the bone. Cook to an internal temperature of 180 to 185 degrees. The center of the stuffing should reach at least 165 degrees.

If not using a thermometer, allow 20 to 25 minutes per pound for birds up to 6 pounds. For larger birds, allow 15 to 20 minutes per pound. For turkeys weighing over 16 pounds, allow 13 to 15 minutes per pound. In any case, add about 5 minutes to the pound if the bird you are cooking is stuffed.

Other popular tests for doneness are to prick the skin of the thigh to see if the juice runs clear or to jiggle the drumstick to see if the hip joint is loose. This latter response, we find, usually means that the bird is not only done but overdone. Sometimes with a young bird the meat close to the bone remains reddish brown even after adequate cooking. The bone marrow in immature fowls has not yet fully hardened, and the red blood cells frequently seep into adjacent meat."

Every year I reread this part to help determine doneness. I also find that the drumsticks and thighs cook faster than the white meat and I test the juices there too. I've overcooked them and undercooked them but if I don't drink too many Bloody Marys and pay attention while basting I usually get it right.

WordPress Recipe Plugin by ReciPress