From Elysian Brewery, Seattle.  There link is here:  http://www.elysianbrewing.com/holiday-stout-cookies/
But in case they take it down later, here's the recipe.  Looks good.  Sort of reminds me of Whoopie Pies made with stout!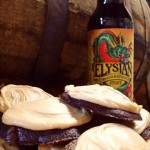 Holiday Stout Cookies
By DoreensRecipes Published: December 26, 2014
SWEET AND SAVORY DRAGONSTOOTH STOUT CHOCOLATE CHIP COOKIES
Ingredients
Instructions
Preheat oven to 350°F. Line baking sheets with parchment paper.

In a medium sized bowl, whisk together flour, cocoa powders, salt, baking soda, and baking powder.

In a separate bowl, beat softened butter with sugars. Add vanilla and egg. Beat to combine. Slowly add flour mixture and Dragonstooth Stout. Beat until all mixtures are combined.

Fold in chocolate chips. Chill dough in the fridge for 15 minutes, or until dough is firm.

Scoop dough onto prepared baking sheets (about 2 inches apart). Bake at 350°F for 15-17 minutes.

Cool for 2-3 minutes and transfer to a wire wrack to cool completely.

SALTED CARAMEL FROSTING: In a medium saucepan, melt butter, salt and brown sugar over medium heat, stirring to combine. Bring mixture to a boil, stirring frequently. Simmer for 1-2 minutes. Remove from heat and whisk in heavy cream. Cool 5-10 minutes.

Mix in 1 cup powdered sugar. Whisk briskly until smooth. If needed, add additional powdered sugar (1 tablespoon at a time) until frosting is firm.

ASSEMBLY: Cookies must be completely cool before frosting. Spread warm frosting over cookies. Enjoy!

WordPress Recipe Plugin by ReciPress