I saw this in the New York Times last Thursday and was able to make it tonight.  It has some of my favorite combinations (tomatoes and basil) plus is a one-dish meal:  chicken and potatoes.  Okay, there should be some veggies other than potatoes and tomatoes.  But close.
Easy to prepare.  Took a lot longer to cook then recipe said;  added my time in instructions.  I think I packed the pan too full.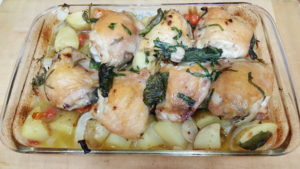 Chicken Baked with Potatoes, Cherry Tomatoes and Herbs
By DoreensRecipes Published: December 3, 2017
Recipe from New York Times 11/30/17--says 4 servings but more like 6 or 8.
Ingredients
Instructions
In bowl or a sealable plastic bag (which I used), combine the chicken pieces, 1/8 cup of olive oil, 1/2 tablespoon of the rosemary, 2 teaspoons of salt, 1/2 teaspoon of paper and the chiles. Mix well and set aside to marinate, at least 30 minutes at room temperature or up to 8 hours in the frig.

Heat oven to 450 degrees. In a 9-by-13-inch baking dish or a large ovenproof skillet with a lid, combine remaining olive oil and rosemary with the potatoes, tomatoes, onion, and a generous sprinkling of salt and pepper. Toss together and spread out evenly in the pan. Arrange chicken pieces on the top, skin side up. Add the wine, pouring around the edges of the pan, and place the basil sprigs on top. Cover tightly with aluminum foil or a lid and bake 30 minutes. (If tightly packed, increase this to at least 45 minutes; an hour might be okay too.)

Remove chicken from the oven and turn the oven temperature to 475 degrees. Return uncovered pan to oven and cook until the chicken skin is browned, cooking liquid is reduced and vegetables are very soft, 10 to 15 minutes more. Photo below is how it looked after 30 minutes.

Remove and discard basil sprigs. Garnish with shredded basil and serve immediately. I think my pan was too crowded; 15 minutes didn't really brown it up. Added another 25 minutes! Photo below is how it came out.

WordPress Recipe Plugin by ReciPress