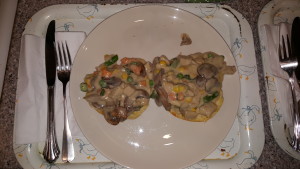 Looking for leftover turkey recipes I received an email from NY Times with just the thing:  25 recipes for left over turkey.  Gave this recipe a try, and it was yummy.  Especially served over reheated leftover biscuits.
Here's the link to all 25 recipes.
NY Times notes that it is a forgiving recipe, so this version includes my adaptations, based on what we had in the frig.
Turkey à la King
By DoreensRecipes Published: November 26, 2017
A great go-to recipe for turkey leftovers. Can also be done with chicken. I used 1/2 and 1/2 instead of full cream, used mixed veggies that mom had in the frig and skipped the sherry. I also burnt the roux the first time through because stove was too hot. Second round worked on medium low heat.
Ingredients
Instructions
Make a roux. In a small saucepan set over medium heat, melt 4 tablespoons of the butter. When it begins to foam, sprinkle the flour over it, and whisk to combine, then continue whisking until it begins to turn the color of straw, approximately 7-10 minutes. (Even at a lower heat this took a lot shorter time for me)

Slowly add 1 cup of the turkey stock to this mixture, and stir to combine. Add more stock to thin the sauce. Keep warm. (I used slightly less broth because I as using 1/2 and 1/2 instead on heavy cream.)

Set a large sauté pan over medium-high heat, and add to it the remaining 2 tablespoons of butter. When it begins to foam, add the mushrooms, and cook, until the mushrooms have released their moisture and begun to get glossy and soft, approximately 7-10 minutes. Add the turkey, then the warm sauce and cream, and stir to combine. Add the peas, then cook, stirring occasionally, until the mixture is hot and has thickened slightly, approximately 7-10 minutes.

Adjust seasonings and serve over biscuits or toast, rice or buttered noodles, garnished with the parsley. (I almost served over leftover mash potatoes which I bet would have tasted great but then I found the biscuits and used those.)

WordPress Recipe Plugin by ReciPress