Just found this on Facebook.  Sounds great.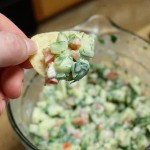 Crisp Cucumber Salsa
By DoreensRecipes Published: May 1, 2013
Note: 1/4 cup is only 16 calories!
Ingredients
Instructions
In a small bowl, combine the first seven ingredients. In another bowl, combine the sour cream, lemon juice, lime juice, cumin and seasoned salt. Pour over cucumber mixture and toss gently to coat. Serve immediately.

WordPress Recipe Plugin by ReciPress