Yesterday I took a day off from my volunteer job. It was cold in Seattle, with snow and hail, so a good day to hang out in a warm kitchen.
I planned to make four recipes: Two desserts and two main dish ones. The desserts were driven by the need to do something with the left overs from the Radical Women Fabulous Feminist Bake Sale: Ginger cookies and 12 cups of chocolate chips. The main dish ideas came from the need to have some food to eat the rest of the week.
Dessert recipes:
Sour Cream Chocolate Chip Coffee Cake
Chocolate Chip Cheesecake with Chocolate Topping
Main dish recipes:
Galinha com cerveja – Chicken Baked in Beer
Tuscan Vegetable Soup
After a brief trip to the grocery store for some of the ingredients that weren't already in the kitchen, I spent a fun day baking and cooking.  All the dishes came out very good.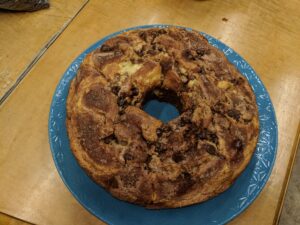 The Sour Cream Chocolate Chip Coffee Cake recipe came from a site called loveandoliveoil.com, which I found because we also had an abundance of sour cream in the frig.  The cinnamon and the chocolate chips made a good combination.
The Cheesecake recipe came from thespurceeats.com,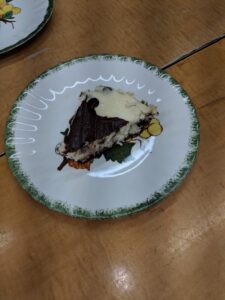 a site I signed up with a while ago.  I like their baking recipes and they print out nicely.  The cheesecake came out nice and firm using a glass pie dish. It was rich, we only needed to eat a small piece to enjoy. The crust was made from the leftover ginger cookies and the taste of the ginger worked well the the cream cheese and the chocolate.
The Chicken Baked in Beer came from my fav Portuguese cookbook, Portuguese Home Cooking by Carla Azevedo.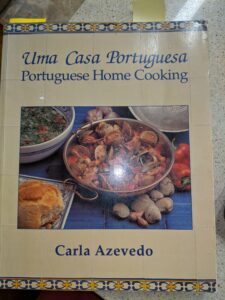 I used a dark winter beer for the sauce and with the cloves and allspice, gave it a strong, different, yummy flavor.
The Tuscan Vegetable Soup recipe came from a Food Network email.  It was easy to make and has a clean simple taste.
Will post recipes and add the links here later.