Whoopie Pies
This is the classic, time-tested, family-favorite whoopie pie recipe.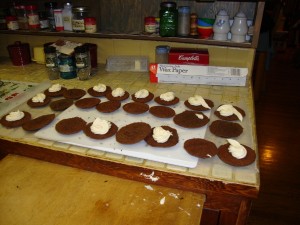 Whoopie Pies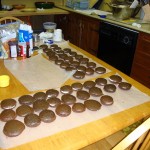 By DoreensRecipes Published: November 23, 2012
Chocolate cake with yummy creamy filling.
Ingredients
Instructions
Mix the dry ingredients in a large bowl with mixer.

Add egg, milk, cooking oil, and vanilla to dry ingredients and beat until well blended.

Drop from teaspoon onto a lightly greased cookie sheet, leaving plenty of space between. Try to drop the same amount each time, so the cookies will be the same size when baked.

Bake for 10 to 12 minutes at 350 degrees. (Test with toothpick at 10 minutes. They burn easily.)

While cookies are baking, make the filling. Beat the butter, sugar, marshmallow fluff and vanilla well with hand mixer.

When cooked have cooled for 5 minutes, remove from cookie sheet. Let cool on racks another 10 minutes or more.

Then spread filling with knife on one cookie and put another cookie on top like a sandwich. Or use plastic bag with corner cut out like a pastry bag and squirt the filling on cookies.

Wrapping each Whoopie Pie individually with plastic wrap helps them stay fresh longer.

Note: Filling recipe is double from the original recipe my mom had but I find they are lots better this way.

Also note: Lightly grease even non-stick cookies sheets so cookies can be removed easily. But don't over do it or the cookie batter will spread out and you'll just get one big square cookie!

WordPress Recipe Plugin by ReciPress