I couldn't find the freeze-dried strawberries this recipe calls for so I bought frozen strawberries and skipped the milk.  Still made it quite runny when not in the frig.  Filling used with Red Velvet Whoopie Pies.  Very tasted and we ate them all.  
Hand mixer worked fine too on this recipe.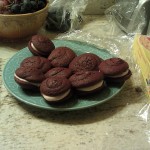 Strawberry Buttercream Filling
By DoreensRecipes Published: November 30, 2012
Filling for Whoopie Pies from "Whoopie Pies" cook book.
Ingredients
Instructions
In the work bowl of a food processor, pulse the sugar and the strawberries until the strawberries are crushed into very small pieces.

In the work bowl of a stand mixer fitted with the paddle attachment, beat together together the sugar-strawberry mixture, butter, vanilla, Marshmallow Fluff, flour and milk, starting on low speed and increasing to medium. Scrape down the sides of the bowl occasionally and continue to beat until the mixture is smooth and creamy, about 4 minutes.

Note: Freeze-dried strawberries are a great ingredient in frostings and other fillings like this because they add a punch of intense, pure flavor without adding moisture. Freeze dried strawberries and other freeze-dried fruits and vegetables can be found at gourmet grocery stores like Whole Foods. Dried fruit can also be used but expect the fruit pieces to be bigger in the final filling and have a less intense fruit flavor.

WordPress Recipe Plugin by ReciPress